Titanium dioxide
During recent years, we have studied the controlled precipitation of amorphous titanium oxyhydroxide followed by continuous or batch hydrothermal crystallization to obtain anatase nanoparticles as well as the Kasuga method to make titanium dioxide nanowires, with introduction of dopants at different steps of the process. These methods have been studied in the ANR PARTOX Project, in the PHOTOMEM Project, and a thesis by Daniela d'Elia to test the effect of doping and morphology on photoactivated water splitting.

Less recently, other processes to make titanium dioxide particle were also studied in the laboratory. Alain Gaunand supervised thesis about :

thermohydrolysis of sulfuric precursors in partnership with Rhodia (Gilles Raskopf, 1990)
sol-gel (Matthieu Rivallin, 2003, collaboration with LIMHP) integrating a chemical engineering approach and kinetics models of condensation.
---
References
Hochepied J.-F., Berger M.-H., Dynys F., Dessombz A., Sayir A., « Aqueous co-precipitated Ti0.5Sn0.5O2 nanopowders as precursors for dense spinodally decomposed ceramics », Journal of the American Ceramic Society, 2011, doi: 10.1111/j.1 551-2 916. 2011.04797.x
D'Elia D., Beauger C., Hochepied J.-F., Rigacci A., Berger M.-H., Keller N., Keller-Spitzer V., Suzuki Y., Valmalette J.-C., Benabdesselam M., Achard P., « Impact of three different TiO2 morphologies on hydrogen evolution by methanol assisted water splitting : Nanoparticles, nanotubes and aerogels », International Journal of Hydrogen Energy 2011, 36 (22), 14 360-14 373.
Malinger K. A., Maguer A., Thorel A., Gaunand A., Hochepied J.-F., « Crystallization of anatase nanoparticles from amorphous precipitate by a continuous hydrothermal process », Chemical Engineering Journal 2011, 174 (1), 445-451.
Rivallin M., Benmami M., Gaunand A., Kanaev A., « Temperature dependence of the titanium oxide sols precipitation kinetics in the sol gel process », Chemical Physics Letters 2004, 398 (1-3), 157-162.
Contact : Jean-François Hochepied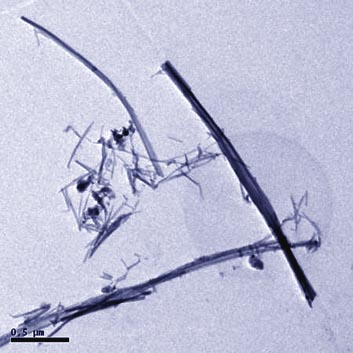 TiO2 nanotubes