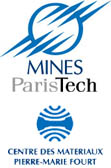 The
SCPI
research group (Systèmes Colloïdaux dans les Procédés Industriels) is a laboratory of the «
Centre des Matériaux
» at
Mines ParisTech
. Its activity concerns the precipitation in aqueous solution, that is formation of solid phase from highly supersaturated solution species.
SCPI is housed on the Campus Paris-Saclay by the UCP laboratory at ENSTA ParisTech with whom collaborations have now begun, with the view of combining the competencies of SCPI in aqueous nanoparticle synthesis and those of the UCP in electrolyte solution thermodynamics.
The laboratory also participates in Nanomet project to help SME to improve their processes producing or using nanomaterials.
---

---