Nicket and cobalt hydroxides
Nickel and cobalt hydroxides find their main application in Ni-MH batteries, they may also be precursors of oxides used in several applications : Li-ion technology, catalysis, electrochromism...
Nickel or cobalt hydroxide precipitation is an old story in the laboratory :
Two theses were supervised by Alain Gaunand in partnership with UMICORE :
more recently the thesis of Corinne Coudun, supervised by Jean-François Hochepied, devoted to the effect of dodecysulfate on nickel hydroxide precipitation, was the basis of the inter Carnot Project ONE in partnership with ICMCB. In this project we try to determine how nano-architecture may affect electrode behavior.
---
Significant results
New morphologies by coupling ammonia decomplexation and the effect of an anionic surfactant.
Understanding of the effect of local pH on the structure and morphology of nickel hydroxide prepared by surfactant directed, double-jet precipitation.
---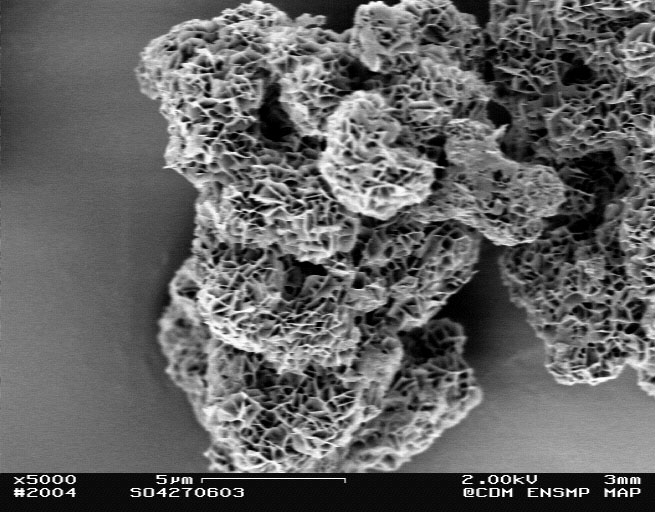 nickel hydroxide
Contact : Jean-François Hochepied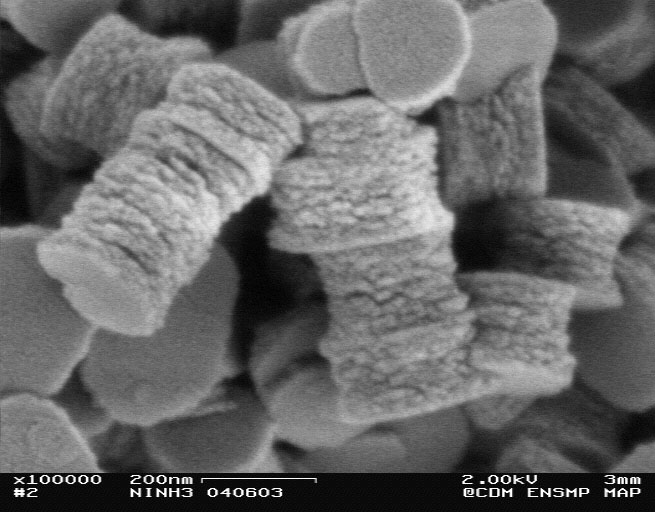 nickel hydroxide
References
Coudun C., Amblard E., Guihaume J., Hochepied J.-F., « Nanostructured particles by controlled precipitation techniques : Example of nickel and cobalt hydroxides », Catalysis Today 2007, 124 (1-2), 49-54.
Coudun C., Grillon F., Hochepied J.-F., « Surfactant effects on pH-controlled synthesis of nickel hydroxides Colloids and Surfaces A : Physicochemical and Engineering Aspects », 2006, 280, 23-31.
Coudun C., Hochepied J. F., « Nickel Hydroxide "Stacks of Pancakes" Obtained by the Coupled Effect of Ammonia and Template Agent », J. Phys. Chem. B 2005, 109, 6 069-6 074.
Gaunand, A., Lim W. L., « From amorphous precipitates to sub-micronic crystalline platelets of Co(OH)2 : a kinetic study of the transformation process », Powder Technology 2002, 128 (2-3), 332-337.
Corinne Coudun's thesis : « Dodecylsulfate effects on nickel hydroxide synthesis » (download : pdf 7,83 Mo).
cobalt hydroxide